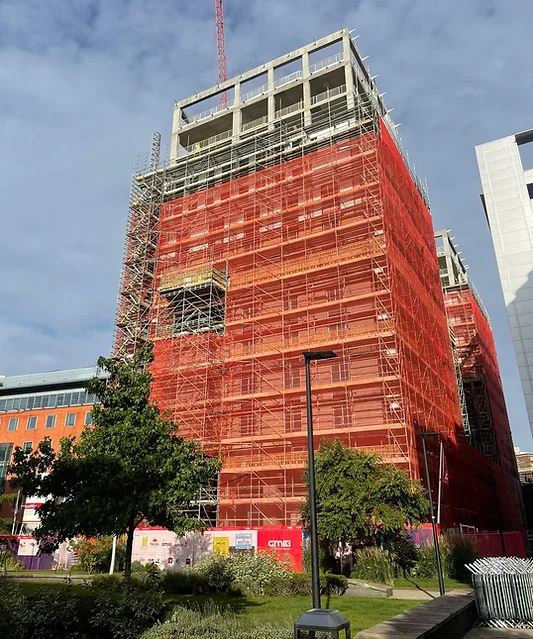 Approximately 2,000m² of Protectapeel glass protection is protecting the new Hyatt Hotel internally and externally in Leeds.
With 140,000 sq ft Hyatt Hotel comprises of 12 storeys with 305 rooms, split between short stay and long stay rooms. The project started in 2022 and is due to open in 2024 with a 25 year Hyatt Hotels franchise agreement. The upscale hotel will provide meeting rooms, a gym, with several restaurants including a rooftop bar.
Protectapeel has been used to protect glass and frames both internally and externally during construction from site damage such as scratching and mortar.
Our happy customer had this to say "I contacted for a Protectapeel quote and Lukasz called to ensure we got the required products and swiftly followed up with a quote. Deliveries always arrived on-site when requested, this was particularly important as there is a booking in system on site. Spraylat attended the site multiple times to provide training and observe the application methodology, providing advice along the way. In addition to this, samples of the coating were taken and examined for dry film thickness. To date the customer service received has been excellent. Lukasz is easy to reach and always happy to help. I have no doubt this will continue through to the end of the project, and on to the next projects." John Foster, Question Solutions
For more information on Hyatt Hotel Glass Protection talk to Protectapeel
Enquire Now
Welcome back to FindTheNeedle.
List your company on FindTheNeedle.