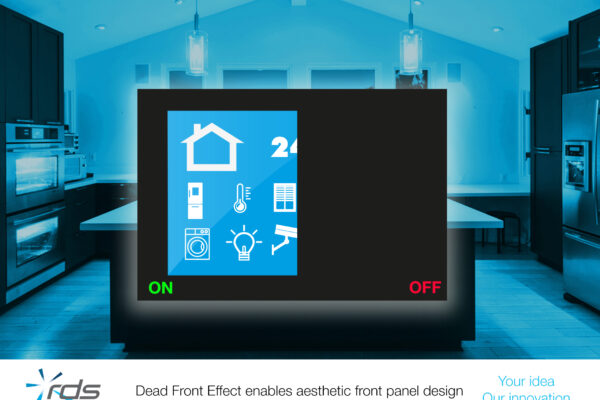 ENHANCED AESTHETIC APPEARANCE FOR TFT DISPLAY APPLICATIONS
Westerham, Kent, July, 2023. Display solutions and embedded systems provider, Review Display Systems Ltd. (RDS), has introduced Dead Front Effect (DFE), a new highly opaque optical cover glass for front panel designs. For equipment and systems using high-brightness TFT display modules with graphical user interfaces, implementing a Dead Front Effect enables a clean, uncluttered, front panel to be easily created.
When integrated onto the top surface of a TFT display module, a Dead Front Effect design configuration creates a completely dark, black appearance enabling a sleek, high-end aesthetic to be achieved. The 'off' state TFT display is completely hidden from view underneath an opaque cover glass. When the TFT display is switched to its 'on' state the display image can be clearly seen and the viewing of information, graphics, text, or images is unrestricted.
Justin Coleman, Sales Manager at RDS said, "For system designs and applications that demand a slick, contemporary appearance, a Dead Front Effect design implementation provides an ideal solution. The best results are achieved when the DFE cover glass is optically bonded to the TFT display module. This technique enhances optical performance and increases the overall ruggedness and integrity of the front panel."
Dead Front Effect cover glass can also feature integrated Projected Capacitive (PCAP) touchscreen functionality, chemical strengthening, and anti-glare, anti-reflection, or anti-scratch coatings. Additionally, screen-printed graphics and icons, menu buttons, corporate branding and logos can be easily added.
Different manufacturing techniques can be used to change the transmissivity of the Dead Front Effect cover glass to allow the level of opacity to be varied.
Further benefits include the ease of cleaning of the front surface of the DFE cover glass which can be wiped clean with a damp cloth, or for medical device applications, sterilized with appropriate cleaning solutions.
Review Display Systems can provide fully integrated display solutions incorporating Dead Front Effect designs and access to an extensive portfolio of industry-leading high-performance TFT display modules. Fully customized, bespoke Dead Front Effect designs can be undertaken.
To discuss Dead Front Effect design requirements and business opportunities, contact RDS at 01959 563 345 or justincoleman@review-displays.co.uk
For more information on DEAD FRONT EFFECT ENABLES SLEEK, UNCLUTTERED FRONT PANEL DESIGNS talk to RDS (Review Display Systems Ltd)
Enquire Now
Welcome back to FindTheNeedle.
List your company on FindTheNeedle.