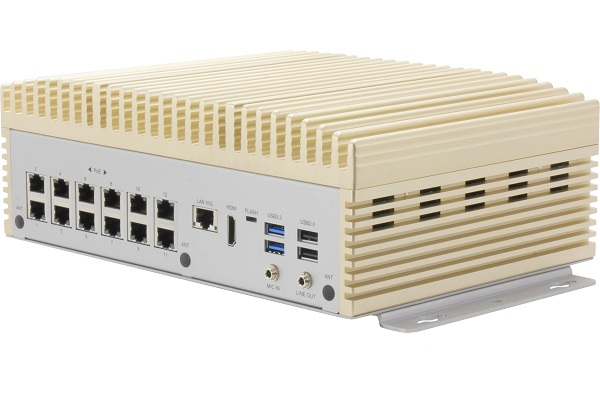 The record-breaking, and world-leading BOXER-8646AI distinguishes itself from previous models by offering ten times the data transmission rate via 10G LAN and six times the AI performance, with up to 200 TOPS via the NVIDIA® Jetson AGX Orin™. The only system powered by the NVIDIA Jetson AGX Orin to host 12 PoE and 10G LAN ports, the BOXER-8646AI raises both the quality and quantity of connectors available for cross-market AI edge solutions. Complimented by a multitude of expansion options and a comprehensive I/O, the BOXER-8646AI scales, enhances and diversifies what's possible across any application.
Equipped with 12 PoE LAN ports, the BOXER-8646AI has the world's most expansive ethernet interface, tripling the capacity of previous generations of Box PCs powered by NVIDIA Jetson SoMs. This record-breaking design enables users to power a greater number of high-quality peripheral cameras for any edge AI application, including smart safety and traffic management solutions. Complimenting this is the BOXER-8646AI's exceptional data transmittance speed, with 10G LAN providing connective synergy like never before.
Adding to a record-breaking PoE interface and tremendous computing power, the BOXER-8646AI is designed to expand the performance and reach of your project in every aspect of its design, including a wide -20°C ~ 50°C temperature range for greater deployment options. Further, LPDDR5 system memory, CAN Bus, and RS-232/422/485 support provide fast and reliable functionality for edge applications, while expansion options such as NVMe, Wi-Fi, and LTE remove the limits of possibility and make the BOXER-8646AIs' versatile, powerful, and unique.
FEATURES
NVIDIA® Jetson AGX Orin™
PoE/PSE GbE LAN x 12
10G LAN x 1 and Giga LAN x 1
Multi-expansion: M.2 E Key / M.2 B Key / M.2 M Key
CANBus / COM / DIO
More details can be found here : Review Display Systems | BOXER-8646AI – Review Display Systems (review-displays.co.uk)
Review Display Systems Ltd
The Crown
London Road
Westerham
TN16 1UT
+44 (0)1959 563345
info@review-displays.co.uk
For more information on INTRODUCING THE NEW LEADER IN EMBEDDED AI SYSTEMS, POWERED BY THE NVIDIA® JETSON AGX ORIN™ talk to RDS (Review Display Systems Ltd)
Enquire Now
Welcome back to FindTheNeedle.
List your company on FindTheNeedle.