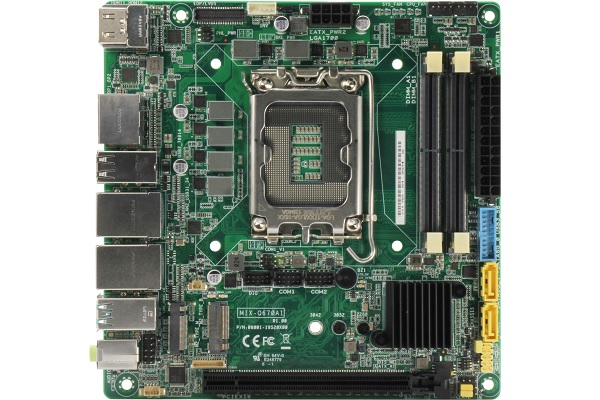 Adding to AAEON's extensive Industrial Motherboard lineup, the new MIX-Q670A1 is AAEON's most powerful and versatile Mini-ITX board yet. AAEON's first to support both 12th and 13th Generation Intel® Core™ Processors (formerly Alder Lake-S and Raptor Lake-S respectively), the MIX-Q670A1 harnesses up to 24 cores, 32 threads, and a host of peripheral technologies including Intel vPro®, Intel® Thermal Velocity Boost, and Intel® UHD Graphics 770 to power elite IoT applications. Further, the MIX-Q670A1 supports 64GB of dual-channel DDR5 4800MHz system memory alongside a market-leading I/O and display interface to make it the premier foundation for high-performance solutions across numerous industries.
UNPRECEDENTED PROCESSING POWER
Sporting both 12th and 13th Generation Intel® Core™ i9/i7/i5/i3/Pentium®/Celeron® Processors, the MIX-Q670A1 takes advantage of a hybrid architecture combining performance cores for the execution of more demanding tasks; and efficient cores, for streamlined background task management. With up to 24 cores and 32 threads alongside Intel® HT Technology, the MIX-Q670A1 is the most powerful Mini-ITX board AAEON has ever produced. Further, its support for 64GB of dual-channel DDR5 system memory at 4800 MT/s offers a 44% increase in memory speed over previous generations, boosting data transfer rates for real-time data analysis.
GILT-EDGE CONNECTIVITY
With 8 USB 3.2 and 4 USB 2.0 front I/O ports, and an internal pin header supporting an additional 2 USB 3.2 ports, the MIX-Q670A1 is the world leader in I/O density on the Mini-ITX form factor. Moreover, two RJ-45 LAN ports accompany two COM ports to provide lightning-fast connectivity to peripheral devices such as cameras and sensors. Combining these features with the MIX-Q670A1's DDR5 support, PCIe [x16] Gen 5 slot, and improved single and multi-thread processing speed offers enhanced performance for vertical market applications such as smart city, which rely on real-time data transmittance on the edge.
CRYSTAL-CLEAR 4 X 4K DISPLAY
A rich display interface comprised of two HDMI and two DP ports, along with additional support for either LVDS or eDP makes the MIX-Q670A1 capable of four simultaneous 4K displays. With CPU-integrated AI acceleration features such as Intel® Deep Learning Boost and the Intel® Distribution of OpenVINO™ toolkit, the MIX-Q670A1 offers up to 2.81 times the GPU image classification speed of Mini-ITX motherboards powered by previous processor generations. Coupled with the utility of the board's connector ports and expandability, these attributes make the MIX-Q670A1 a near-limitless solution for optical inspection and image processing applications.
Contact RDS on 10959 563 345 for more details
For more information on UNPRECEDENTED PROCESSING POWER IN THE NEW MIX-Q670A1 talk to RDS (Review Display Systems Ltd)
Enquire Now
Welcome back to FindTheNeedle.
List your company on FindTheNeedle.